DREAM A LITTLE DREAM

The on-road JB Caravans Dreamline range has a stunning array of quality features and boasts a high standard luxury finish. The Dreamline offers exceptional value, with an array of touring and family options – this range is exceptional value for a top-end tourer. Don't delay, get out onto the open road with your brand new Dreamline today!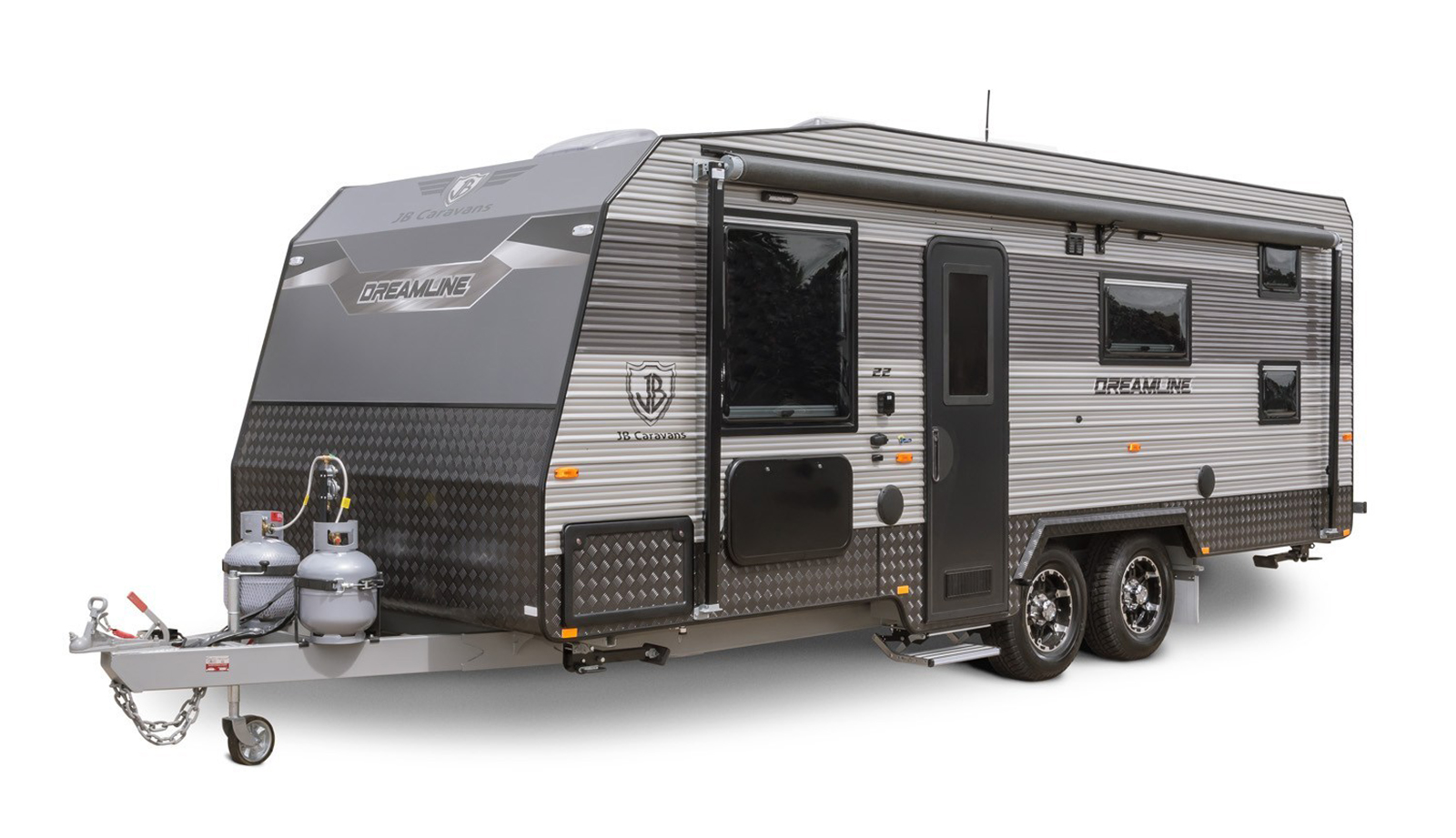 We use only the highest quality construction
JB Caravans Construction
Using only Australian 3.2mm thick tube steel, JB Caravans manufactures all chassis in its own facility. Our engineered chassis are built to handle the fit for purpose conditions that our various caravans are built for in Australian tough conditions.
JB uses only independent suspensions on our models which are rated for Australia's tough conditions. Whether that be for on – road use, semi off – road, off road. Our tested suspensions include Alko and Cruisemaster. The Dreamline Lux and Eco Al-Ko Rocker 3.2T on Tandem Axle van and Dexter 2.5T on Single Axle van
Offering one of Australia's most comprehensive 3 year warranty's JB our warranty includes caravan structure, electrical and plumbing. The warranty is a fit for purpose warranty.
An extremely rigid smooth alucomp is utilised on the Dreamline giving it a sleek and modern finish. The front and back panels also include colour coded alucomp panels.
Fitted with Alko – ESC as standard as well as electric brakes and break away switch you can rest assured that you are safe when towing the Dreamline Platinum. European windows as well as a security mesh are also fitted for your safety.
A range of options and sizes are available on this van including increased solar for free camping, satellite, bike racks, slide out kitchen etc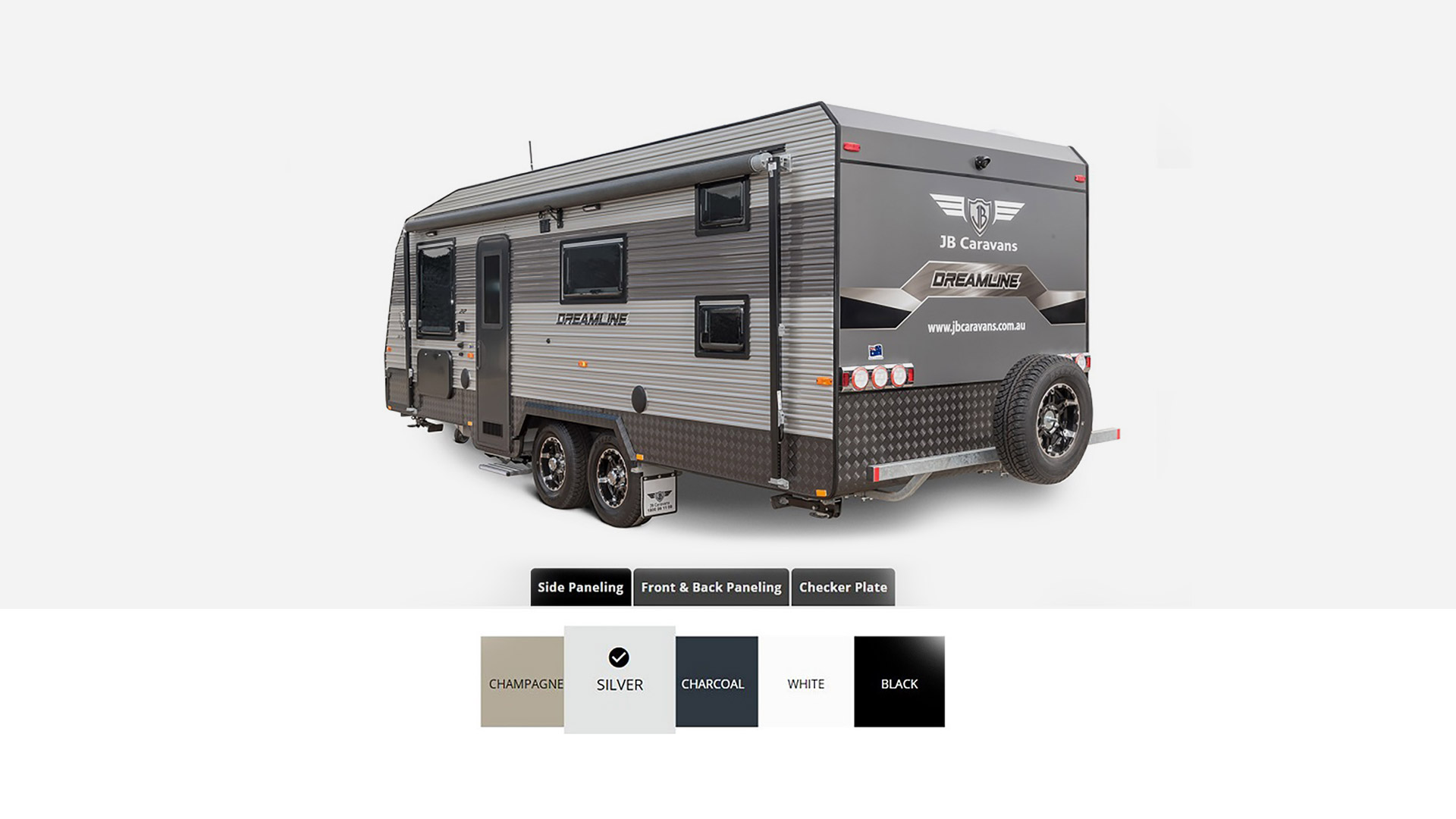 Build Your Own
DREAMLINE
The JB Caravans Dreamline range has a stunning array of quality features and boasts a high standard finish. The Dreamline has been touted as offering all the luxury and comfort without the price tag, it truly offers exceptional value.
Build your Own
Take a look inside
Take a virtual look inside our incredible Dreamline Caravan featuring spacious layouts, high-quality finishing and premium appliances. Beautiful inside and out is the Dreamline.
Enjoy the JB Caravan Lifestyle in our highly detailed Virtual Reality room. Our configurator provides you with a simulation you wouldn't normally experience from home. Simply download and run the configurator. Our 3D Configurator should run smoothly on all modern Windows PC's and laptops. Keep an eye out for regular layout updates.
3D Configurator
Features & Colours
Customise

Your Choice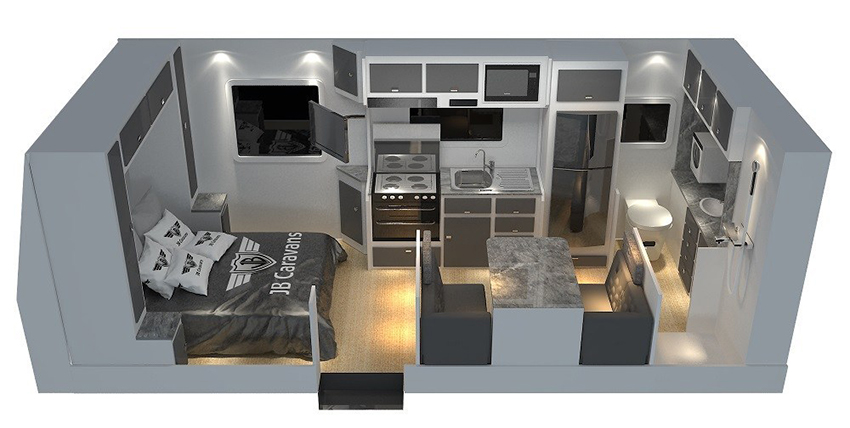 Dimensions
Overall Length 7.4M
External Width 2.48M
External Height 2.9M
Internal Height 1.98M
Tare 1975 - 2025kg
Tow Ball 130 - 150kg
Build your Own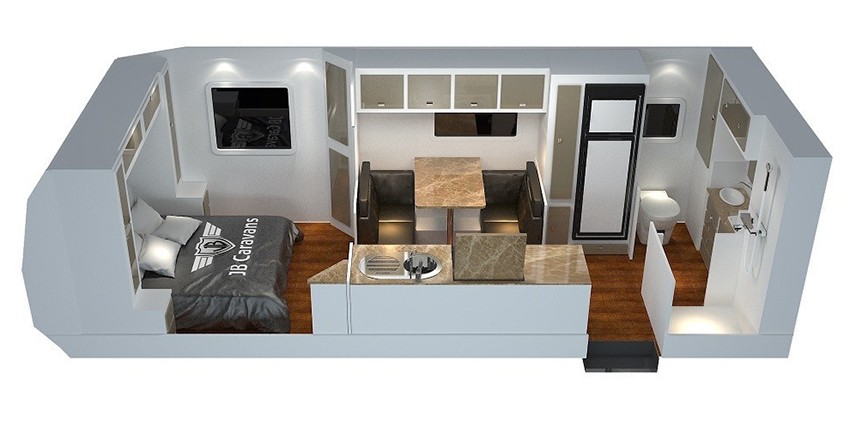 Dimensions
Overall Length 8.2M
External Width 2.48M
External Height 2.9M
Internal Height 1.98M
Tare 2335-2385kg
Tow Ball 110 - 130kg
Build your Own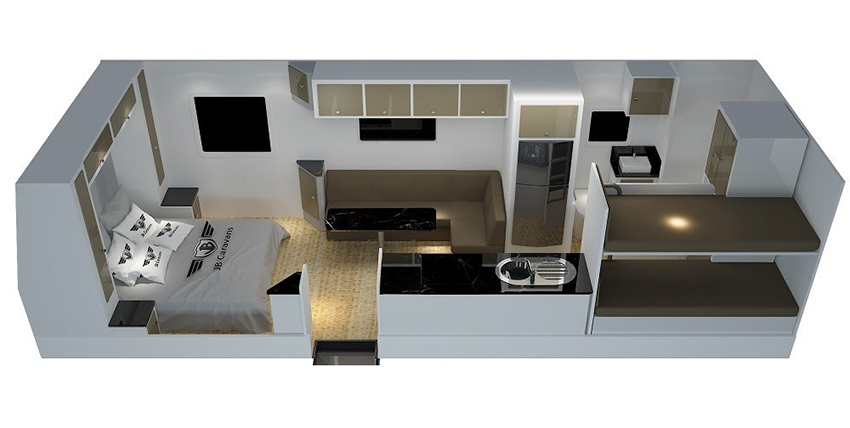 Dimensions
Overall Length 8.7M
External Width 2.48M
External Height 2.9M
Internal Height 1.98M
Tare 2365 - 2415kg
Tow Ball 160 - 180kg
Build your Own
Specifications
Internal
Premium Laminate Benchtops
Pillow top Leather Upholstery
Footrests
Splashbacks in a range of colours
Pillow top Queensland Mattress
Slatted bed frame on gas struts
One piece vinyl flooring
Piano Hinges throughout
Lightweight doors
Buttonless door handles
Appliances
Dometic 3 way fridge
CD?DVD Combo
24″ Smart TV
Wineguard antenna
Gas/Electric Oven
Touch control range hood
Microwave
Smoke alarm
Fire extinguisher
Reverse Cycle Air-Con/heating
Top load washing machine
External
External speakers
Picnic table
Alucomp walls
Midi hatch
Roll out awning
Alucomp stone protection
Triple lock entry door
Skylight
European double glazed windows
Exclusive exterior graphics
Chassis
Supagal chassis
4 inch mainframe
6 inch A-Frame
Al-Ko Rocker 3.2T/ Dexter 2.5T suspension
Alko 50mm Ball Coupling To Top of A Fram
Electric brakes
235/75 R15 LT MPC 27 tyres
Phoenix Silver 15″ Alloy rims
Mesh on A-Frame
Pull out step
Alko – ESC
Plumbing
Tap on A – Frame
Ceramic bowl toilet
Flick mixer taps
Ceramic basin
External gas bayonet
12V water pump
2 x 9kg gas bottles
Stainless steel sink
1 x 95L Water tanks
Swift 28L Gas/Electric HWS
Electrical
135Ah AGM Battery
Alloy step with light
Reverse Camera + monitor
1 x 170W solar
Ensuite light switch
LED rail light above sinks
Anderson plug
Car break away switch
1 x Battery boxes
Entertainment hatch
Solar regulator